IMVU CASE STUDY
Gummicube helped the #1 social avatar app achieve 96% keyword visibility growth and 75% growth in Top 5 rankings
+58%
TOP 5 RANKED KEYWORDS
+45%
CONVERSION ON GOOGLE PLAY
Overview
IMVU is the world's largest avatar-based social networking app. Each month over 4 million people visit IMVU, where they spend an astonishing average of 55 minutes per day customizing their avatars, chatting with friends, shopping, hanging out at cool parties, sharing experiences, and earning real money creating virtual products.
While already a leading creator of virtual worlds, IMVU still must contend with many competitors who were ranking for valuable keywords and search terms that IMVU was not. To maintain its lead, IMVU needed to identify its strengths and weaknesses and create a new App Store Optimization (ASO) strategy that capitalized on its existing audience and reached out to new users.
IMVU and Gummicube began the optimization process in early 2018. The goal of this process was to increase installs by targeting high volume keywords and leverage A/B testing to fully optimize the creative presentation. We analyzed the existing IMVU app creatives, keywords and metadata and compared them to top competitors to identify the best opportunities and develop an ASO strategy.
Research And Tracking Via DATACUBE
The optimization strategy included updating the titles, subtitles, keywords and descriptions for iOS and Google Play. IMVU leveraged Gummicube and its DATACUBE enterprise ASO software for research and A/B tested keywords live using a Search Ads campaign. This helped to understand initial performance for the IMVU app before committing to each update. The IMVU ASO plan also established a process for improving conversion in both stores leveraging A/B multivariate testing.
At the start of the optimization process, Gummicube used its DATACUBE software to determine which keywords to target while maintaining existing top keyword rankings. Together we evaluated various themes that IMVU could target to potentially expand their footprint in the App Store and Google Play including "social networking," "chat" and "virtual" keywords. The new keywords were then selected based on relevance, demographics and volume.
IMVU also was interested in targeting game-based keywords it previously had not considered to reach a relevant new audience. While IMVU is not a game itself, its user demographics overlap with those who play certain types of mobile games. This, combined with the fact that certain competitors performed well with game related keywords, made it an easy decision to test "game" as an expansion strategy.
With the new keywords selected, we integrated them into the metadata for both app stores. The descriptions were written to highlight the app's key features, such as the social aspect, while utilizing the targeted keywords. This aided in the app's indexation within each store and built relevance for related terms in its category.
Metadata Optimization Results
The results were evident quickly. IMVU's rankings for high-volume keywords in Google Play increased from the previous month, realizing 33% growth in the number of #1 ranked keywords. IMVU's top ranked keywords on iOS increased by 22% in addition to 58% growth in the top 5.
By targeting game-based keywords, IMVU began to overtake competitors that were previously utilizing similar terms. At the start of the campaign, IMVU ranked #12 for "avatar game," but rose to the #1 spot after integrating the recommended keywords . Similarly, it became the top-ranked app for "social games" and ranked in the top five for terms such as "chat games" and "virtual games."
While the initial keyword, metadata and Search Ads optimization resulted in excellent performance, there was still work to be done. The next area of focus was conversion optimization. This involved updating and testing the creative elements of the IMVU app page and search listing.
Prior to the optimization, IMVU's icon was a speech bubble with the app name overlaid against a black background. When compared with competing apps, we found that icons featuring avatars on a bright background performed the best. Furthermore, integrating logos helped maintain brand identity. Although including multiple characters is visually stimulating, having one serve as a focal point for the user to look at provided the most positive results.
We found that the strongest performing screenshots in the category contained clearly visible calls to action that highlight key features. The designs that tested best included characters placed in the foreground as focal points. This analysis helped us determine the best elements to integrate into the IMVU screenshots, including how to best utilize branding, callout text and screenshot orientation.
Following this, IMVU and Gummicube tested five new icon options and screenshot variants. We performed multiple rounds of A/B testing and examined every aspect of icons and screenshots. This included testing composition, color and the call-to-action, to see what worked best in every regard.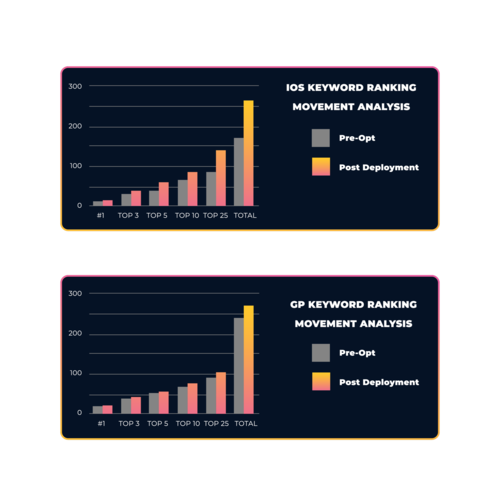 A/B Testing Results
Following this, IMVU and Gummicube tested five new icon options and screenshot variants. We performed multiple rounds of A/B testing and examined every aspect of icons and screenshots. This included testing composition, color and the call-to-action, to see what worked best in every regard.
The results of the testing allowed Gummicube and IMVU to select a new icon and set of screenshots. As a result of the optimization, IMVU's daily installs increased by 45% on Google Play and 105% on Apple devices.
"When choosing a partner for ASO, we were looking the most experience, the best technology, and agency support to help us execute." said Lomit Patel, IMVU's VP of Growth. "We didn't want an agency that just white labeled reports from a third party tool and Gummicube was the only company that checked all the boxes for us. We're extremely happy with the results that Gummicube has helped IMVU achieve." concluded Patel.
IMVU and Gummicube upgraded and enhanced every aspect of IMVU's App Store Optimization. We created significant updates and new outreach strategies, resulting in notable and sustainable growth across app stores.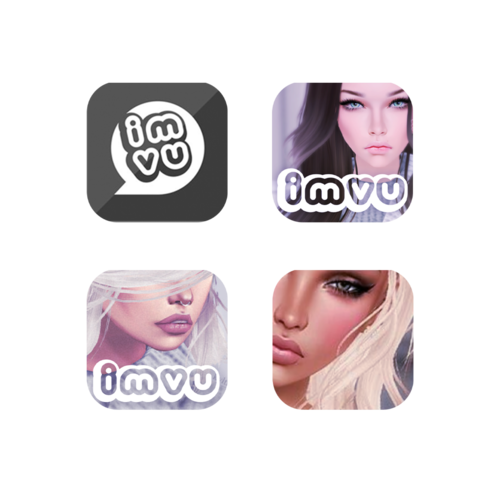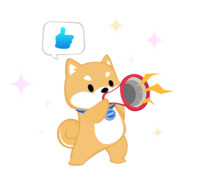 Gummicube Testimonials
Our clients love us because we produce the best results. See what top notch ASO services can do for you!