MATCH TO WIN CASE STUDY
Gummicube helped increase conversion for Match to Win by more than 175% and boosted downloads an astonishing 700%
+524%
TOP 5 KEYWORD VISIBILITY GROWTH
+193%
ORGANIC SEARCH IMPRESSION GROWTH
+707%
ORGANIC APP UNIT GROWTH
+176%
ORGANIC CONVERSION GROWTH
Overview
Match To Win features match 3 puzzle games set on a tropical island, with exciting power-ups and animations. Along with match 3 games, the app also offers frequent free random cash giveaways as an added bonus for being one of its users.
Rewardify, Match To Win's parent company, came to Gummicube to help increase their presence in the App Stores through a combination of optimizing organics, creatives and launching paid marketing campaigns.
Research And Tracking Via DATACUBE
Gummicube used its DATACUBE platform to understand keyword trends around terms Match To Win was relevant for, given its two main features: match 3 gameplay and prize giveaways.
Match to Win, its competitors in the "matching" and "giveaway" market and apps with cross-over between the two were analyzed using DATACUBE. Popular high volume terms involved combinations of:
"Match"

"Cash"

"Money"

Competitor brands
The goal of the initial release was to determine which categories of these keywords the app would be found most relevant for, by both the App Stores' algorithms and end-users. From there, the strategy involved performance-based adjustments to further target the highest performing search terms and their demographics.
Organic Deployment
Gummicube's strategy resulted in an increase of top positioning for high volume, relevant terms, including:
After this initial round of optimization, Match To Win saw a 50% increase in Top 5 ranked terms, 50% increase in Top 5 ranked terms, from 22 to 53, a 79% increase in Top 10 ranked terms, from 39 to 70, and an overall growth of 85% in total ranked keywords, from 139 to 257
Deployment Results
Keywords for Apple Search Ads were purposefully targeted to improve CTR (Click-Through Rate) and organic ranking in top positions. The success of this paid marketing campaign yielded further positive impact on organics as well.
This cohesion between paid and organic strategies resulted in a 193% growth in Organic Search Impressions and 707% growth in Organic Search App Unit As a result of the initial Apple Search Ads campaign, there was an increase of 32% in overall ranked keywords, 147% of which were in the Top 5. Notable movements included:
Conversion
After optimizing Match To Win's search discoverability, Gummicube shifted to Match To Win's creative elements. Using DATACUBE, Gummicube assessed which terms were ranked in top positions, as well as how key competitors on those terms positioned their creatives and changed designs over time.
Specific elements that were tested in the icons and screenshots included:
Iconography and text around winning money

Distinguishing the gameplay aspects from the free prize drawings

Saturated, vibrant colors
A/B Testing
These strategies were implemented over several rounds of A/B tests for Match To Win. Gummicube continued monitoring the indexation of keywords in DATACUBE to help eliminate extraneous variables, such as shifts in keyword rankings or traffic across different channels.
Each element was tested and iterated upon, applying winning variants and moving forward with adjustments based on past performance. Gummicube's ASO experts also took into account the sensitive nature of apps that offer real money, in order to follow compliance guidelines and limit the chances of new creatives being rejected.
A/B Testing Results
SCREENSHOT TESTING
Through focusing on performant keywords and combining design styles popular among similar apps with elements that set Match To Win apart, screenshot testing yielded a positive result in conversion.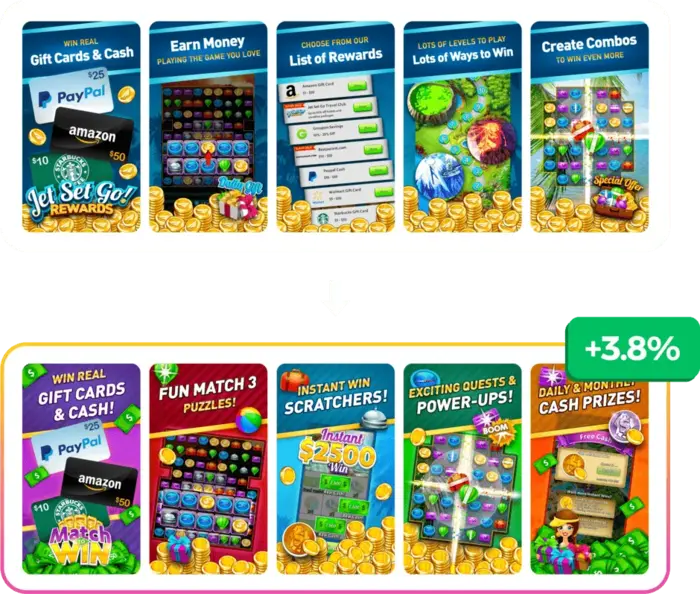 After the first round of testing was complete, Match To Win saw an increase of 3.8%.
ICON TESTING
With the keywords and screenshots showing positive growth in the "win real money" genre, Gummicube executed iterative tests on the App Icon to continue growth. Messaging and design styles were changed to see what performed best, then built upon from there.
Through several iterations, conversion grew substantially:
Test 1: +100.24%

Test 2: +20.66%

Test 3: +1.62%

After establishing winning messaging, colors, iconography and composition, Gummicube continued testing for seasonality. Building on top of past results, Halloween-themed icons were tested in October. The winning variant showed a +5.63% higher conversion than the already improved icon.

Conclusion
Together, Rewardify and Gummicube saw continued growth for Match To Win. Through ongoing organic efforts, paid campaigns and creative testing, Match To Win achieved 193% growth in ranked keywords, 524% of which were in the Top 5; 193% growth in Organic Search Impressions, and 707% growth in Organic Search App Units.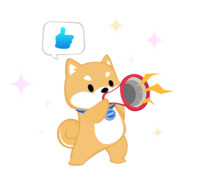 Gummicube Testimonials
Our clients love us because we produce the best results. See what top notch ASO services can do for you!